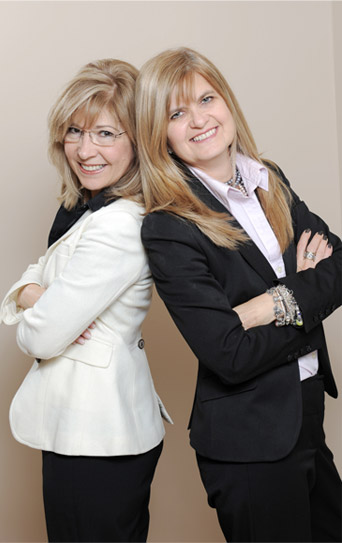 Get to know us
Working Relationships Start With a Connection
Over ten years ago, coworkers Kim Moss and Cathie McCabe discovered they shared similar professional experience, overlapping professional networks, and an almost identical vision for a unique service platform. The result? They instinctively 'recruited' each other and began discussing the launch of their own firm. When the partners founded Moss McCabe in 2006 to help Executives recruit Executive Assistants and Administrative Staff, they built a strong working relationship based on mutual respect and natural chemistry. That match between them was just the beginning.
Since then Moss McCabe has worked to create that same type of successful match for all of their clients throughout Toronto and the GTA. The team leverages instinctual expertise and a knowledge bank built over almost three decades connecting people in working environments. No other team is more prepared, connected, or determined to add you to the list – and our near 100% referral rate proves it.
Kim Moss
As Managing Partner of Moss McCabe, Kim's role involves hands-on participation in the professional art of matching people and positions. She's driven by one core philosophy – there is no alternative in recruitment but the 'right' match.
To achieve the 'right' match, Kim leverages her no-nonsense approach to gathering information and a commitment to follow a steadfast recruitment process that includes on-site visits, extensive research, and an analysis of corporate culture which she considers the backbone of every successful placement. Her patience with this process is understandable – it has led Moss McCabe to high employee retention over the course of their operation.
Her 25-year resume involved fast-tracking through the industry, taking leadership positions in various recruitment firms. She definitely found her fit. But while achieving corporate success, Kim developed a vision for the industry that involved bringing personality to the function of recruiting and a hands-on commitment to the needs of clients. Her natural networking skills have contributed to the success of this vision.
Cathie McCabe
With more than 25 years dedicated exclusively to search consulting and recruiting, Cathie McCabe's resume holds both an impressive record of professional accolades and access to an exclusive network of Executive Assistants and Administrative staff.
While she was one of the founding partners, Cathie now holds an advisory position in Moss McCabe, acting as a strategic resource for the organization, supporting the business with her fundamental knowledge of the candidate pool, her seasoned experience in the recruitment industry, and her uncanny insight into how the business should evolve.
Prior to founding Moss McCabe, Cathie worked as a search consultant for most of her career, eventually taking a management position in a leading recruitment firm.